Saturday June 25th – Friday July 1st 2022
This week's headline. Week 2 of the summer respite with the family.
Day 8 – Saturday June 25th: You won't believe it. More Offshore Fishing for Mahi!
We had a great day offshore again on Saturday. John caught around 20 mahi and towards the end of the trip we found another honey hole up north, off of Carysfort Reef. We spent the entire afternoon between 400-600 feet, and on our way back towards shore, we found a nice little weedline in 350 feet of water.
We didn't go without casualties though – John broke his new St. Croix fishing pole which he bought with his own money. This was a learning experience. He was really upset about this breakage, which hit close to home since he picked it, bought it and paid for it. A trip to remember for sure.
Day 9 – Sunday June 26th: Baby Manatee Visit
We spent a good portion of the day Sunday simply resting. We played hard over the past week. Towards the end of the day, our friend Cole came by to hang out with John. They lobbied to swim in the canal, and requested the Lilly Pad be rolled out to the water, which I obliged. Jessica joined the boys in the swim, which involved many dives & large cannon balls. After about 30 minutes of swimming, we were joined by a family of manatees. One of them chose to spend some significant time with the boys & Jessica introducing themselves.
Jessica said it was the coolest thing she had even been a part of!
Day 10 – Monday June 27th: Welding, Pool & Top Gun Maverick
The tee top got fixed! In late December, I broke a couple of rod holders on the tee top near Key Harbor Marina. I tried for months to hire a welder. Multiple calls, multiple texts, multiple requests. I was to the point where I thought I'd need to pull the boat out of the water and trailer it to Miami to have the work done. One evening, my neighbor Alex shared the name and number of Brad Bryan from Maritime Mobile Welding. John, Cole (who stayed the night for sleepover) & I drove the boat down to Tavernier Creek in the hopes of meeting Brad. En route to the marine welder, I was able to check off a major sightseeing milestone I had on my list of things to do in Key Largo. I found Toilet Seat Cut. It's on the bay side just southwest of Tavernier Creek.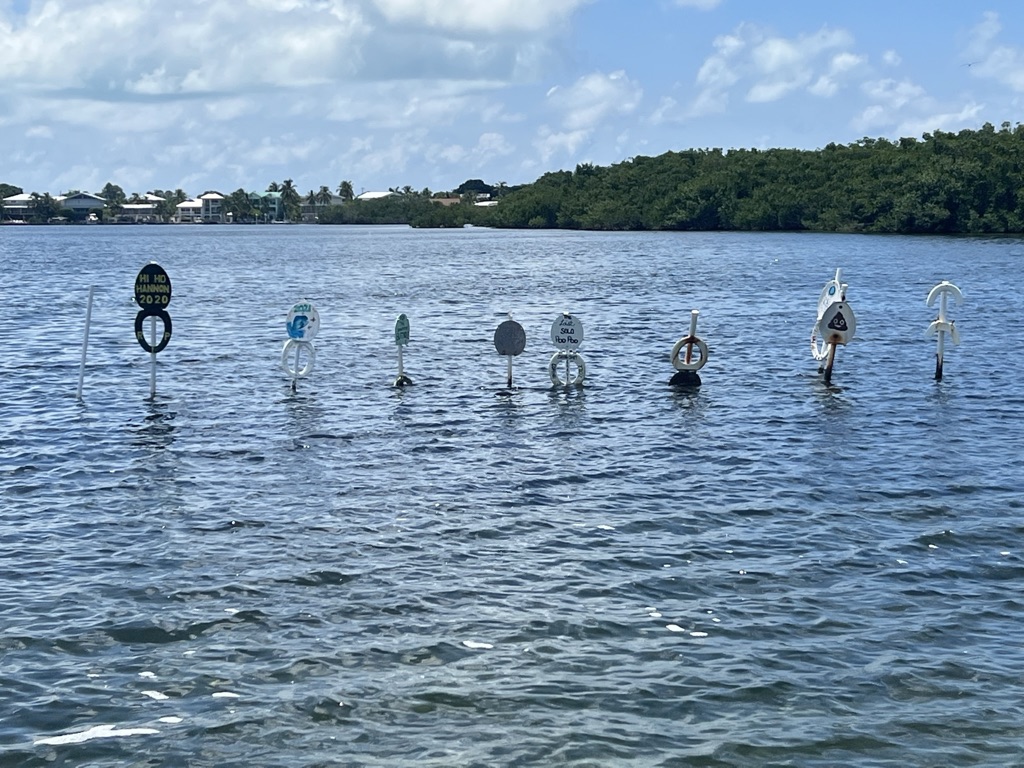 Brad is awesome. He fixed the boat in 1 day! I was blown away when he called. I expected the boat to be in his care until Friday. Instead of 1 week, it took him about 3 hours. John & I were so pleased to go pick the boat up on the same day.
After dropping the boat off with Brad, it was hot. The boys, Jessica & I decided to go to the local public pool at the YMCA for a swim. The name is the Jacobs Aquatic Center and it is just off of Overseas Highway in Key Largo. We swam & did many dives off of the high dive. Mommy even showed off some of her impressive trick dives. The rain & lightening blew us off of the pool trip, but we had a great time swimming.
To close out an amazing day, Jessica, Jackson, John & I all went to Tavernier 5 Cinema, the local movie theater here in the Upper Keys and we watched Top Gun Maverick. We all enjoyed the movie, and had fun reflecting on our favorite parts.
It was just an awesome day in the Florida Keys!
Day 11 – Tuesday June 28th: Trip to the Train Museum
One of my primary motivations for taking some time off from work this summer was to spend some days with the boys, and to be fully present. This was one of those days. Jackson & I went to Miami together to spend the day. This trip to Miami also has a tactical & logistical component – I need to deliver my 2021 Dodge Ram 2500 PowerWagon to Miami Power Wheels. I am having a 4″ lift kit, new rims & 37″ tires installed this week onto Full Beastmode. More to come on this topic.
Initially, the plan was to visit the Train Museum in Miami, but at the last minute, as we were en route to their location, we discovered they were closed on Tuesdays. Doh! We had to adjust our plans, and it worked out perfectly. We went to the Bayside Marketplace, rode on a double decker bus & ate a Five Guys (our favorite burger place).
During the day, Jackson and I spent a lot of time discussing the Star Wars saga – he's an expert in the series of movies, shows and books. In a Lyft ride back from Southbeach to the Bayside Marketplace, he answered all of my ignorant questions on the heritage and traditions behind the Mandelorian. I was tremendously impressed with the depth of his knowledge on this topic; he is truly an expert. It was a great day to connect with Jackson & to be fully present.
Day 12 – Wednesday June 29th: Key Lime Pie
Today, I went with my favorite girl on a ride down to Marathon. Our close friends, the Dunhams, are coming next week and all love the wonderful Key Lime pies from Fish Tales by Vaca Cut. So we made a drive down, had some lunch and picked up a couple of pies. On the drive down, our discussion revolved around a topic we have routinely – how beautiful this place is. We've lived here in the Florida Keys for nearly 9 months and I am still mesmerized by the beauty. The drive from Key Largo to Key West is one of the most beautiful places on earth. Perhaps even #1
No photo Wednesday! I am not sure how I went a whole day without taking a good one. Somehow, I neglected to snap a single shot. However, there is something of record for the day to memorialize a typical Key Largo event that most people wait the whole year & plan a vacation for. Upon returning back from Marathon, John lobbied for some mahi fishing. Unfortunately, the boat was low on gas and the truck was in the shop. With no way to get more fuel, we'd need to improvise. We decided to made the short run out to the ledge for some yellowtail snapper. Jessica, with her amazing eye for beauty, grabbed my phone and shot some sunset photos. This is what we had to drive home to:
Day 13 – Thursday June 30th: Boat Work & Truck Pickup
Today, I spent the day doing some of my favorite "me" things. I cleaned out the boat. For almost 2 hours, I had a great helper. After another expensive trip to West Marine, Jackson & I sorted all of the fishing lures, hooks & line from within the front storage well. We categorized them & put them into new, color-coded tackle boxes. Jackson is very gifted in this area. When I asked him how he developed such great skills, he simply replied, "I just do a lot of sorting, Dad." That makes total sense to me 🙂
Just as I was finishing up the boat clean up work, I received a call from David at Miami Power Wheels. They are done! The truck would be ready at 7PM. Earlier in the day, Jessica suggested it would be nice for the two of us go out to dinner on a date (I think she'd like to spend some time together as we're about to have a consistent company over the next 4 weeks, a little foreshadowing there). Hell yeah I want to go on a dinner date with my girl. In all likelihood, a trip up to Miami was already in order. The day would end with a pickup of the truck and a delicious dinner at Morton's Steakhouse in Coral Gables. We love Morton's!
Day 14 – Friday July 1st: Fishing by Myself
On Friday, I rode out to the Everglades by myself. John was feeling sick & a little tired, so I saw it as a chance to go look for some pilchards (i wouldn't feel compelled to cutoff the bait search in favor of fishing). Well, so much for that. While I was unable to find any bait, I did get a chance to catch a bunch of baby lemon sharks in the Everglades. This was a recharge day for us all.