Saturday July 9th – Friday July 15th 2022
This week's headline. A plethora of activities.
Day 22 – Saturday July 9th: Nest Key & Some Offshore Fishing
Half way there! Today marks the halfway point of this 44 day break from my work life. I feel a tremendous mix of emotions. Thankfulness, joy, gratitude, love, excitement. What an amazing time it has been since this period began on June 18!
Today, my long-time friend Quintin & his kids came down for a brief visit. They arrived late last night, and we learned they'd have to return on Sunday, so we felt the need to do all Key Largo has to offer, in one day. In the morning, we rode over to Nest Key for a swim and splash fest.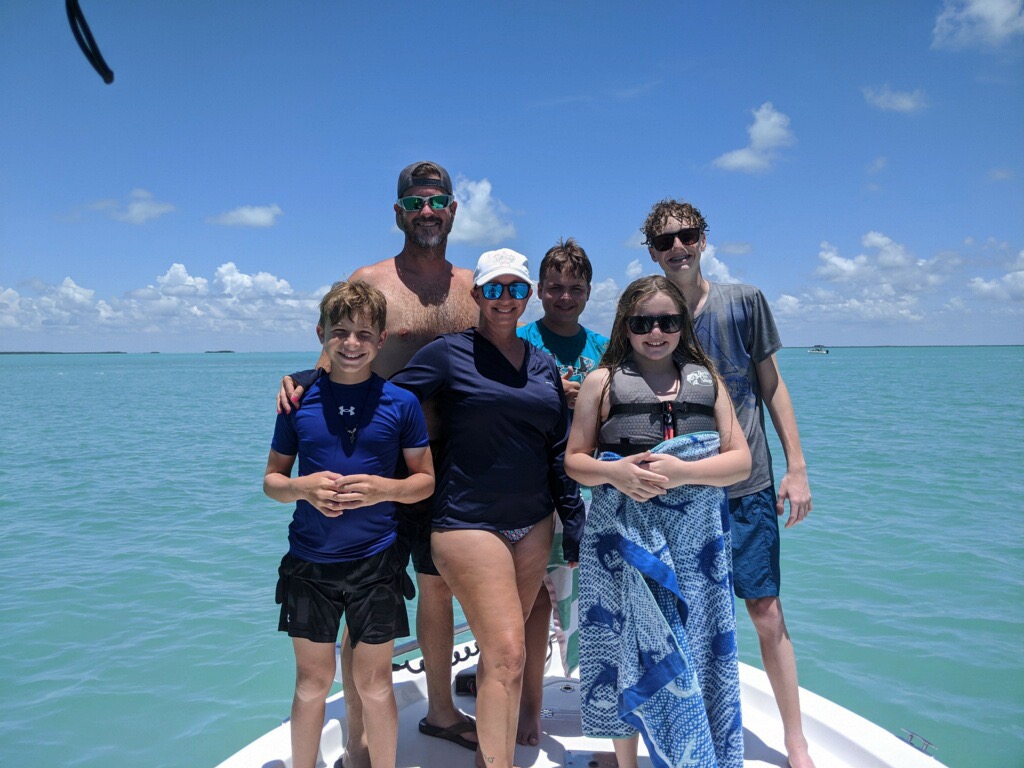 On the way home from Nest Key, we stopped for lunch waterside at Jimmy Johnson's Big Chill. This is one of our favorite locations to go when we have friends in town. The view is fantastic. Then we headed home and turned the boat over for a ride out to the weed-lines and to chase some mahi mahi. We caught a few little ones, but after more than a week of high winds, to be able to get offshore was a victory.
Day 23 – Sunday July 10th: A Day Of Rest
After our hard work on the lilly pad at Nest Key, followed by a trip offshore for mahi, and a late night game of Garbage, we were pretty tired on Sunday. Our house guests slept in and we all needed to recharge the batteries a little. A little R&R at the house with some snoozing on the down stairs porch is just what the doctor ordered. Our guests left around 4PM and we wished they could have stayed longer.
John and I have been watching the weather daily for a break in the wind, and tomorrow looks like it will be pretty flat. The winds are supposed to be 5-10 knots out of the south and bay waters smooth. Just what we're looking for. As such, we want to get the boat ready for mahi.
Day 24 – Monday July 11th: Offshore With John For Mahi (Again)
John Hurff simply loves to fish. Today was the perfect day for him. The weather was perfect and the fish were plentiful. We lost count of how many mahi mahi we caught, but our best guess was 31. Any time you set your target fish on the dock, then go out and catch lots of that species, you feel pretty good. We did just that on July 11 2022.
We caught 3 keeper mahi before 9AM, and then spent the rest of the day looking for cool weed-lines. At a place we called the Netty Bucket, John was catching almaco jacks on a bare hook.
The bad news is, my cleaning brush broke! This is devastating as cleaning the boat is one of my favorite things to do. Seriously. I find a lot of peace in this activity for some reason. Even worse, a dirty boat makes me anxious. I'll need to get a new brush from West Marine ASAP.
Day 25 – Tuesday July 12th: The Dolphin Mall with Jack
Today, Jackson and I went to Miami to run some errands and spend the day together. We got a ton done and I had a great time spending the day with him. For starters, we took the seat cushion and backing to Claudio (the upholstery specialist I was referred to by my marine welding contact). Claudio lives in Homestead and is making a matching seat back for the new addition to the seat with rod holders. We had a slight breakdown in communication in terms of the parts he needed, as Claudio's first language is Spanish. Jack and I drove the cushion up to him and he said it should be competed by next Wednesday.
After the cushion drop off, Jack and I took the truck to Miami Power Wheels for the alignment check. We dropped the truck off and called for a Lyft to take us to the Dolphin Mall. It makes me happy to see how impressed Jack is with the speed and availability of Lyft. We call & they are immediately there. On these day trips with Jack, I have consistently opted for the black car VIP option. We even talked about it. I don't have the time or desire to wait. I don't want to be uncomfortable. I want to spend time with Jackson, fully present and focused on being with him. Eliminating any complexity or discomfort related to the travel aspect of our time together seems like such a no-brainer. Plus, he's boujie, just like his daddy.
Once we reached the mall, we had some lunch. I introduced him to Johnny Rockets, after his mother endorsed them following a trip to Dolphin Mall with his brother a few days ago. This was after the minor debate that Jack & I had as we discussed whether PF Chang's was a fancy restaurant. After lunch, shopped briefly: a stop at GameStop, some school clothes from Columbia and a couple of tee shirts from Hollister. Then we went and saw Thor Love & Thunder. We agreed it was a fun movie and we both really enjoyed it. The Guns & Roses soundtrack was fantastic. Finally, we topped off the Dolphin Mall with a power-card at Dave & Busters and some candy from the kiosk that sells sweet stuff by the pound.
We took a Lyft Lux back to Miami Power Wheels and then hit up West Marine for some new cleaning supplies. My long-handled brush finally died and needed to be replaced. We closed out the trip with dinner at Chick-Fil-A and a great discussion about the cause of the Civil War. Jackson is such a smart & good kid. He's a kind & thoughtful boy. My Jackson Days this summer have been such a great blessing to me.
Day 26 – Wednesday July 13th: Mahi Chasing With John & Cole
We caught a fish right out of the gate. At 200 feet, I tossed out a white weedless squid rig on a little weed-line running straight south, and immediately picked up a peanut. We didn't catch another fish for hours. It was a long & hot day, but we ended on an up note. We stopped at George's Key (our name) and caught a bunch of barracuda at the end of the trip. The highlight of the trip was when John caught two almaco jacks on the same hook (twice). The boys loved that.
Day 27 – Thursday July 14th: A Round of Golf
Today I played golf with one of my local friends. I haven't met a lot of folks since being down in Key Largo, but one of the Little League dads and I struck up a conversation about golf one game. This was our second outing, and we've already planned our third for one day next week. We played at Miccosukee Resort in Kendall, Florida. There are 3 9-hole courses and we played the Dolphin & Barracuda courses. I shot 80 after a strong first 9, then came back to earth a bit on the back. It was hot & humid with lots of iguanas on the course. Definitely a South Florida setting.
Day 28 – Friday July 15th: Boca Raton & The Dirty Heads
Jessica and I booked the tickets for the concert months ago. We have loved to listen to the Dirty Heads over the past several years; It's been common to hear on the portable speaker in the kitchen on weekend mornings as breakfast is prepared. For me, their music represents the ideal environment we wanted to get to in the place where we lived. With the smell of coconut & the seagulls singing in the background.
I'm on vacation, every single day cuz I love my occupation. Hey hey hey, I'm on vacation, if you don't like your life then you should go and change it.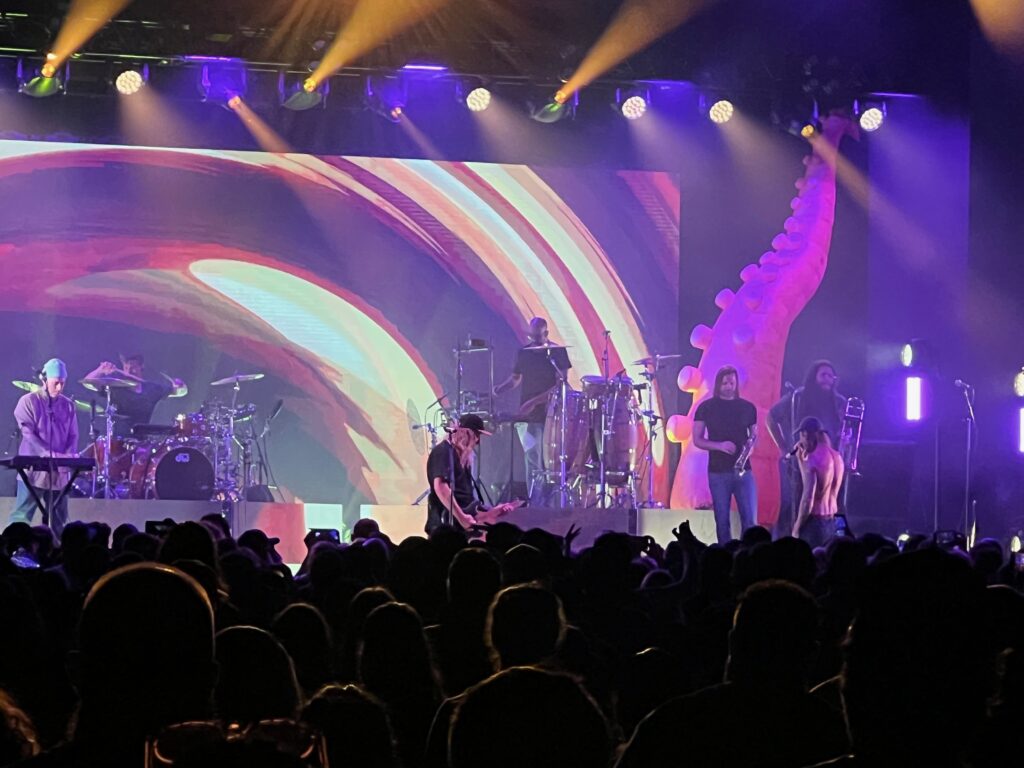 We did exactly this. We moved to where we wanted to be. It was hard & expensive & scary, but we did it. The music of the Dirty Heads is very symbolic for this life transformation. To be in the live music scene, with the volume & the smells, is exhilarating.
We drove up from Key Largo and stayed at a nice resort hotel on the beach – Hillsboro Beach Resort. We brought Suzie, and left her in charge of the boys in their room. Jessica had Outback delivered to their rooms for dinner. What a life we live!!!